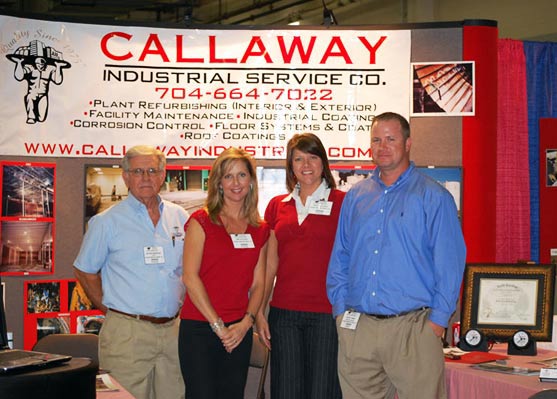 Callaway Industrial Services, Inc.
Since 1975, Callaway Industrial has been servicing the industry with specialty industrial cleaning, painting, floor systems, and corrosion control.
Whether you need one time help with plant refurbishing or regularly scheduled cleaning services, Callaway Industrial Service is your first choice!
We've been in business since 1975, and a majority of our employees and clients have been with us since we opened our doors. Our services are insured, and your satisfaction is 100% guaranteed.
Callaway Industrial is a Full Facilities Maintenance Contracting Company
Callaway industrial specializes in interior cleaning and painting within manufacturing facilities.
We have the equipment, knowledge and skilled employees to tackle the largest of projects either on an ongoing basis or short shutdown periods.
We offer FREE Plant survey's and proposals either for immediate needs or future budgets. Callaway Industrial covers your needs from your floor to your roof.
Corrosion Control

Facility Painting (Interior / Exterior)

Construction (Progressive and Final Clean-up)

Pressure Washing (3,000 – 20,000 PSI)

Paint Booth Oven Cleaning

Storage Tanks, Piping, Refurbishing

Duct Cleaning

Waterproofing

Dry Ice Cleaning
Industrial Floor Systems (Epoxy, Urethane, Repairs)

Machine Painting

Plant Shutdown Scheduling

Vacuuming (Cobwebs, Dust)

Vacuuming Trucks

Floor Scrubbing and Sweeping

Annual Maintenance Contracts

Roofing Systems
Callaway Industrial stresses safety, and our safety record is excellent.
Our highly trained employees are dependable professionals dedicated to doing the job right. We make sure each member of our staff has proper licensing and certifications. Callaway Industrial also offers NACE Corrosion Control Certification.
All of our employees receive intensive training designed to protect them, your employees and your facilities.
Each of our employees receives a detailed safety orientation followed by regular training in these areas, all of which are OSHA approved standards:
Fall Protection

Emergency Action and Response

Fire Prevention

Personal Protective Equipment

Lockout / Tagout

Hazard Communication
Electrical Safety

Bloodborne Pathogens

Lift Training

Confined Space Entry

Hot Work